Temps de lecture / Reading time:
5
minutes
At the beginning of August I've been in the Canary Islands for three weeks. Weeks of vacation especially, including a lot of wandering in the mountains. Landed in Lanzarote, I quickly toured the island over two days.

Then headed to Fuerteventura, the nearby island. I will spend four full days exploring on foot and by bike. Dunes, beaches and mountains.

I ended with the best of the three: Tenerife. With its natural parks with varied landscapes.

Today, it is from Las Palmas that I write these lines. The boat-hitchhiking resumes here, in this huge marina (1250 docking points). The strategy will change a little because I don't want to spend so much time in the marina:
Temperature taking for a week: see if boats are leaving in the short term
If not: exploring Gran Canaria by bike (for a week)
Then another week of prospecting at the marina
If still no boat: exile on La Palma or El Hierro until the boats arrive (in this case I will have to cancel skiing in Chile …)
This article also tells of my experience of boating stop in Morocco.

Adaptation
Switching from nomadic to sedentary is more difficult than it seems. Especially when the sleeping budget is close to 2 euros per day and the marinas are, in general, in the city center! The bike offers a feeling of freedom and autonomy in contrast to the position of the boat hitchhiker, who is fully dependent on the sailboat's captain. In Lisbon, I hadn't really experienced "hitchhiking" because I had contacted Pierre early enough to go to the Azores (plan that unfortunately fell into the water). So it was in Morocco that the experiment really began.
The first thing to do in this case: find a cheap place to spend the night(s), and if possible not too far from the marina. Fortunately, Agadir has a public campsite in the city centre. 50 dirhams (about 5 euros) includes the night in a tent with a bicycle. Although three times my budget "4-star hotel", I consume little money to feed myself (about 2.5 euros per day), so it is my food budget that will absorb this extra cost. First challenge solved!
It is then necessary to synchronise to a sedentary rhythm: identify supermarkets not far/cheap, organize the day (now full of free time), look for a WiFi spot, social development (though optional). It looks a lot like the integration stages in a new city/new country! But in accelerated and as unemployed (so without a social basis…)! I usually prepare a to-do list (filled at 90% with post writing…), and the days fill up pretty well.
Once these steps are completed, the offshore quest can begin. Understand how the marina works, who does what, who knows what, who can help, who will prevent. Not only know the sailors, but also the staff, the fishermen. Then you have to let people know what you are looking for, the information will generally flow quite well locally or even cross the borders! The sailors' network, like any network, is very supportive. And experiences with boat-hitchhiker crews can go well or be hell. So the information is shared quickly and will help much more than a long discussion on the docks!
Classic day

The first few days, I slept at the campsite and I spent my days reading on global warming and doing some maintenance of the bike. Once the day of "work" is over, I go on my daily tour of the marina. The advantage over Lisbon's marinas turns out to be a disadvantage in fact. Of course there is only one marina to visit but it is small and very few sailors stop there before reaching the Canary Islands…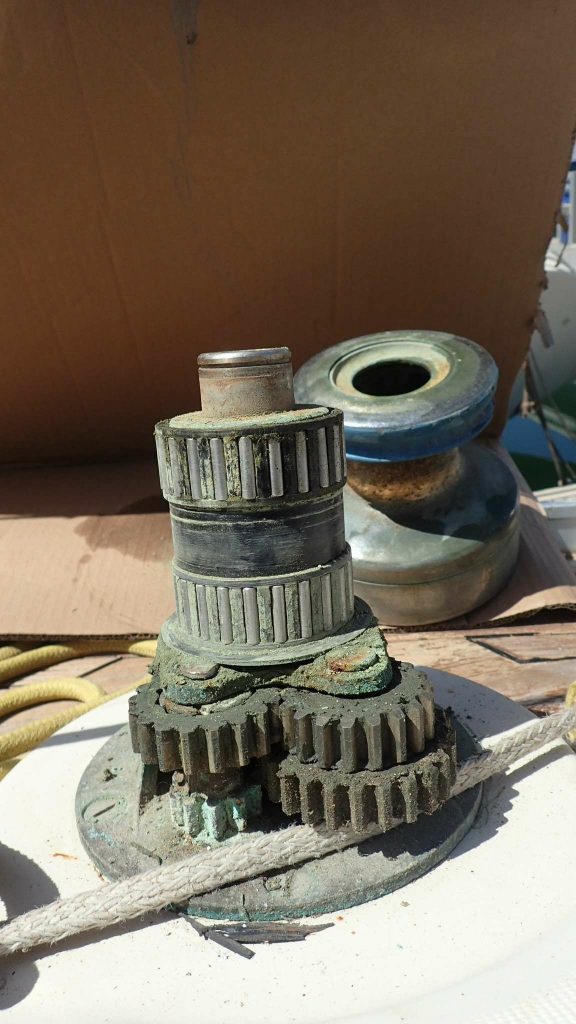 By dint of visiting the marina I met Mourad, a Moroccan who renovates his boat in order to go around the world. The contact goes well. So I will help Ibrahim, a young Ivorian on an internship on the boat, in exchange for a bed. I'm now directly on site! Weeks pass but few boats aren't coming. Of the few I meet, only two went to the Canary Islands… A routine sets in: I know the owner of the supermarket and often eat at the same snack at the entrance to the fishing port.
In the marina, I also met this couple of American who crossed the Atlantic several times. Leonard and Julie have been sailing together for more than ten years with their dogs. Like many sea nomads, their lives are an adventure. Their started with retirement. But they found happiness in the sea. I hope our roads cross again!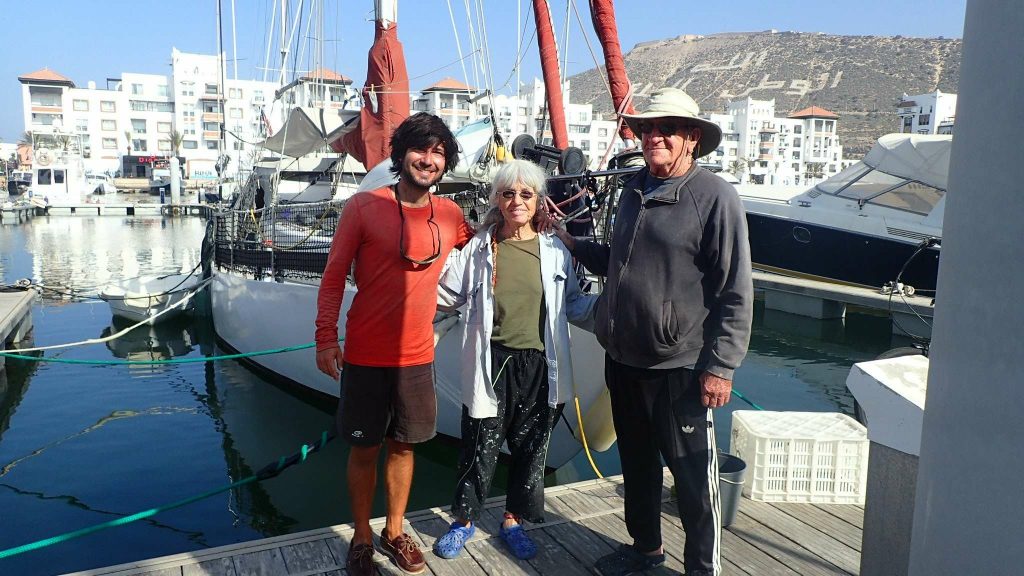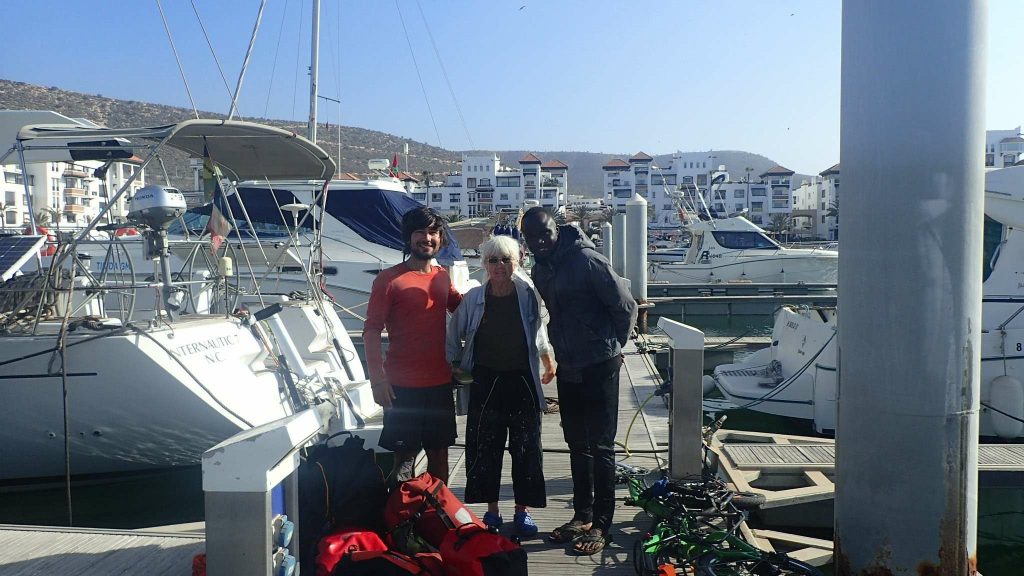 Great start on Grand Soleil
At the beginning of July, I met another sailor, rather discreet. We exchange quickly. He is waiting for a "sailing" friend and plan to join the Canary Islands in regatta mode (via Madeira). Unfortunately he can't take me because I will only be one more constraint in their performance navigation. I totally understand. The day before he left, he conceded to me: "If my friend ever misses his flight, I'll take you onboard." Thanking him, I don't believe it but I still appreciate the gesture. A few hours later, he returns to me: "My partner burned his hand while tinkering, he won't come". Great news! His friend is fine, it's just a little burn in the wrong place (but at the right time!). Like what, luck often happens where it is least expected. We should leave the next day… But Morocco has decided otherwise! Thierry's visa has expired by one day and the Agadir marina is a good administrative headache with the police, customs and the royal gendarmerie. A police officer confirmed to him that this was not a problem for a few days and that the authorities will let him go without hesitation. But in practice everything didn't go as planned! So much so that we left the port four days later after many adventures for Thierry who was running between the court, the gendarmerie and the consulate!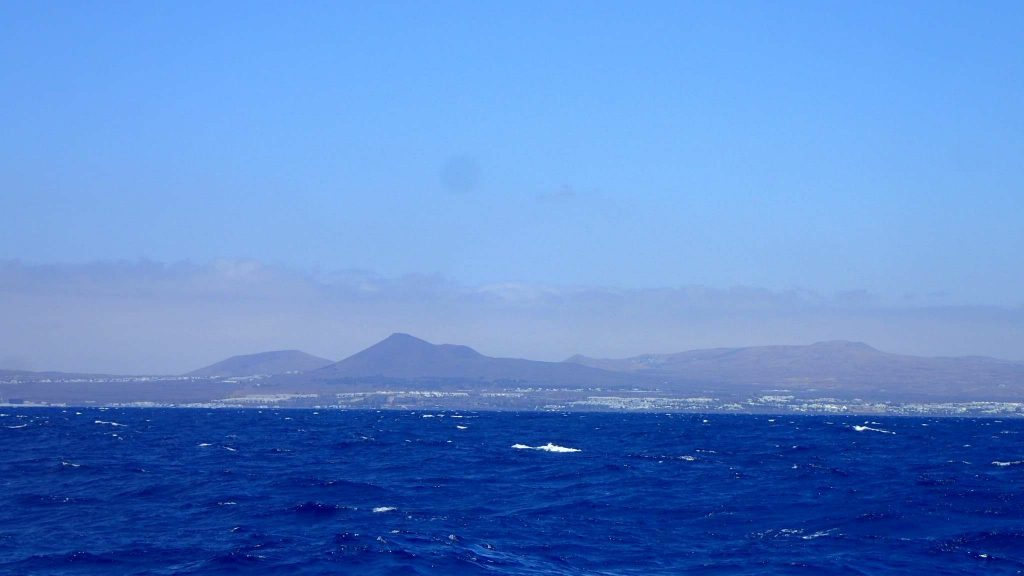 Less than thirty hours later, Lanzarote began to draw in the distance. It took me almost a month and a half to get my way there…