Four paniers and then that's it. Let's pack them up!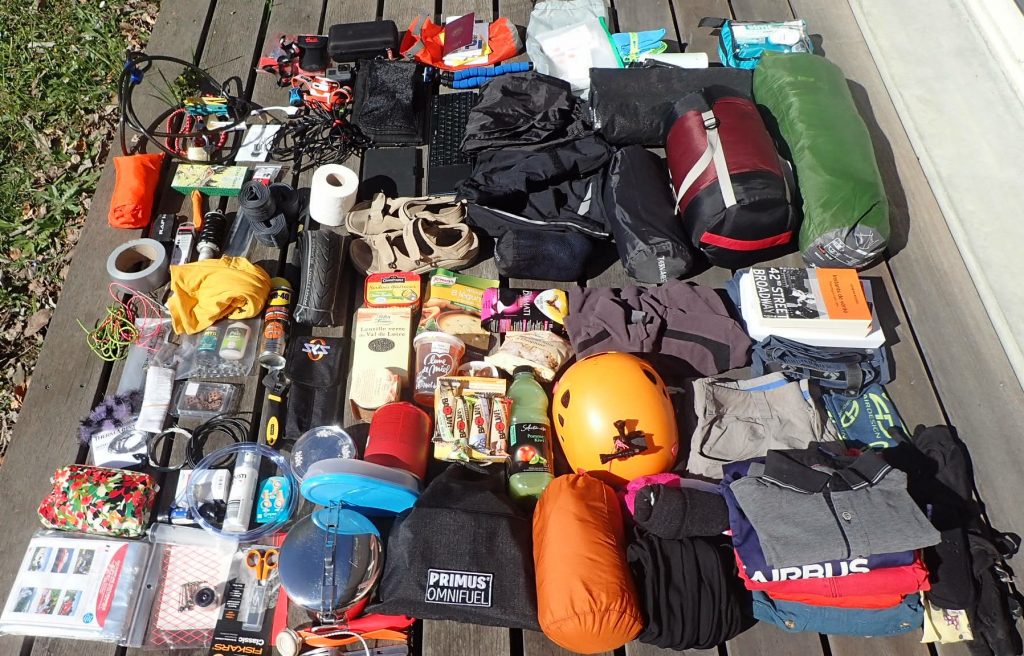 Move
By bike of course! But which one? With the increase of cyclotourism, the choice in bikes is varied and specialized. Given the planned distances and the relatively sustained pace, fostering comfort will be my choice.
At this game, nothing equals the recumbent bike! This type of bike, defined by the rider's particular position, offers many advantages including:
a body support shared between the buttocks and back
a better Aero-dynamism thanks to its low height (varying from about 70 cm-low racer-up to 110/130 cm-urban/travel recumbent)
improved blood flow and oxygenation
a clear view of the horizon and the sky
reduced risk of injury to frontal shocks and lateral falls (impossibility to fall over the bike)
Far from perfect, it also has some flaws including:
reduced maneuverability (especially in the city or in dense traffic)
low-speed start-up and balance more difficult than a bike (increased risk of falling on rugged roads)
a frame length which can be challenging in some situations
The rider's visibility and spare parts, contrary to the stereotypes, are not so problematic (for travel bikes).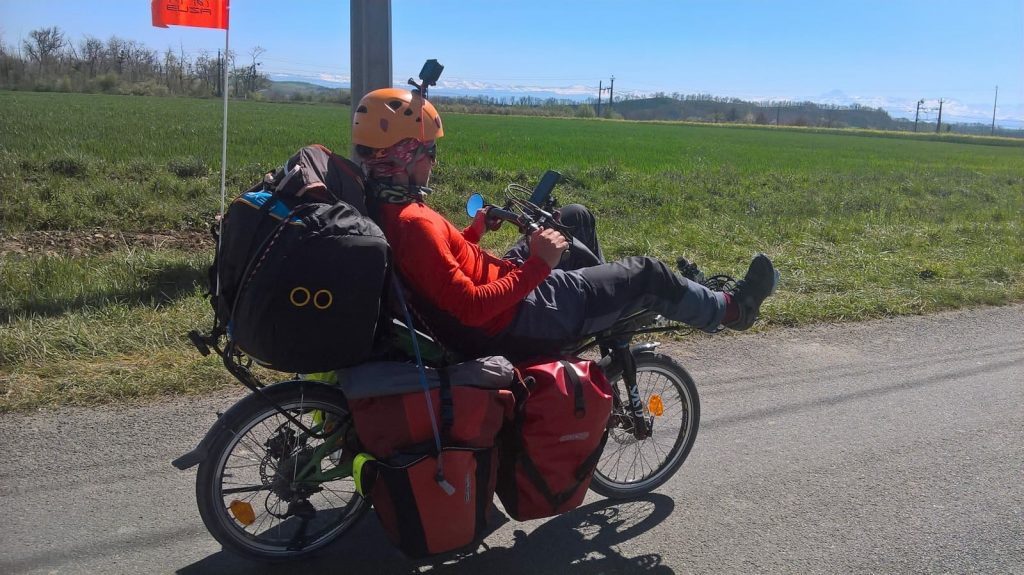 Sleep
One of my favorite activities, especially after a long riding day! The same motto here: comfort. If I don't find a host (or I'm not looking for it), the tent will help me out most of the time. Light with a little space to store my stuff overnight, self-supporting (no need of pegs to make it stand on itself) and with the possibility of cooking in the shelter. The Taurus UL from VAUDE answered well to these specifications (even if not "self-supporting" but "semi-self-supporting"). VAUDE is a German brand that makes efforts on the ecological and social footprint of its production.
For soil insulation, the Therm-a-rest Neoair Xtherm offers the best insulation (among the Vieux Campeur products). In case the night temperatures decide to go under-10 °c, it will keep myself warm…
… Subject to having a good sleeping bag! No investment this time, I will keep my Deuter Exosphere -4 (comfort temperature at -4°C). Used for a year and a half, in Norway in particular, I sleep in there like a marmot from the Vercors.
Eat
The cyclist's fuel. To put all the odds on my side and to have a hot meal at least once a day, the stove is necessary. I'll take two providing three combustion modes:
a home made wood stove
an Omni Lite TI multi-fuel stove from the swedish brand Primus (my main fossil energy consumption)

gas: requiring less maintenance than gasoline, it will be favored mode when cartridges will be available
gasoline: the most efficient in terms of combustion and easy to find
The cooking will be done in stainless steel pot, heavier than aluminium but above all less intoxicating.
Finally, water management also has special attention. Stored in a camel bag, a Sawyer care plus filter and Micropur tablets will ensure a minimum quality of the water found on the road.
Communicating and sharing
This part is a good headache too, not as much as insurance but still! The greater the number of electronic equipment, the greater the need for electrical power generation and storage. Let's start with this, the energy production will be done via a 15W solar panel and will be stored in two external batteries of 10 Ah each.
For the images, I will carry my Olympus TG-4 compact and a GoPro hero 5.
The phone will be used a bit for everything but will spend most of his time on the handlebars. Accustomed to having a lag of ten years in telecommunications technologies, I was offered my first Android, a Crosscall, which should withstand all the trials, watch this space… A light keyboard will make the writing phases a little more enjoyable.
Med
Little subject to diseases, I will take away few medications and try healing with essential oils. In addition, I carry a large spectrum antibiotic, and hope to find specific drug in local pharmacy.
To get the best set of oils I spent some time in specialised books (aromatherapy) and shops and I finally chose these ones:

Tea tree: used as toothpaste
Palmarosa: a good deodorant
Tropical basilic: transport sickness
Pepper mint: against headaches
Ravintsara: anti-infection
Java lemongrass and eucalyptus: against mosquitoes
Gaultheria procumbens: relieve the sport aches
Aspic lavendel: relieving on sunburnt
Repair
The minimum repair and maintenance kit will clearly be in the paniers and with that a few tools.
The transmission being the most important part, I have everything to clean it as well as extra chain. Then the wheels come as second most important: spare spokes, tubes and a tire (20 inches could be tricky to find).
Fly away
Among aerial sports, paragliding is one of the least bulky aircraft offering great freedom to those who want to move and explore in the mountains. Nevertheless, it remains an inconvenient object to carry… Especially on a bike! I reserve a place of choice on the luggage rack at the back.
The sail, an Eazy 2 Superlight designed and manufactured by air design, weighs just over three kilos. The harness ("driver's seat"), a sky reverse 4, makes it almost five kilos (including a spare parachute). It is the latter that makes the total weight pale, but security obliges this model offers good protection and practicality.