Temps de lecture / Reading time:
7
minutes
I am writing these lines from Porto, almost a month after I left. So far everything is fine, only one mishap but many encounters, and already good memories. It is not easy to find a rhythm and I am still looking for it. Despite my roadbook that I keep up to date regularly, writing texts takes time but I hope to be able to share them as often as possible! Here is a short summary of my first week, further posts will follow soon.
The days prior to my departure were intense. My trip was supposed to start a month earlier but the bike's order was passed a little late… In short, returning from a good week of ski touring in the Pyrenees, I had to prepare my saddlebags for a departure ASAP. And the big day will be Friday, March 22nd. A nice combo "raclette"/cyclo-traveler-meeting/bike-pickup in Lyon made this day before departure quite enjoyable! The first trial of transporting the recumbent bike in the TER (French regional trains) was a real success (these bikes are normally forbidden). As forecast, nothing is planned for the next few days, apart from the first stops in the family!
First pedal stroke

It is thus Friday around 4:30 pm, after taking few pictures in front of the House, that we left with my mother and my brother, to Poliénas.

The weather, one of the critical variables during bike trips, is characteristic of this winter 2019: big blue sky! My aunt joined us on Grenoble banks and it is along the Isère that we will descend to my uncle's. The massif of the Chartreuse and the Vercors escort us along the way. Few cyclists on this "Green Highway" reserved for bicycles, a famous route we all ride for the first time. Taking the Poliénas Nord Exit, the Vercors offers us its finest colors from its winter and sunset "fashion" collection. After a short but steep hill, we finally get hailed by a hysterical crowd (Okay I'm exaggerating maybe a bit here). A beautiful departure evening ensues, and the first farewell too.
A long day with emotions

The next day, two brave sportsmen decided to cycle with me, my mother and my uncle. Under the sun and the walnut trees, we started our ride towards Saint Marcellin, from where I will continue alone in the Drôme region to join the other side of the family for noon. This is the second wave of goodbye. This is odd because on my side I do not feel like leaving, at least not in a different way than when I went working in Germany. While for my loved ones, the anxiety takes over, and my journey seems to them without return, or so very distant. Am I too optimistic? Or naïve? I also know that I will see my family on the way, which will be confirmed soon enough!

The GPS sends along the Vercors with a great view on its cliffs but in return there are many climbs that heat the legs. Their impatience helping, my relatives decide to go "hunting" me (by car) and to play the role of a broom car. I will have a little break at noon because I have already cycled 80 km, but the program is already written: lunch, visit of the retirement home the cycling with the family to my uncle. Intense day!

After a short "show" at the Castle (retirement home), the family cyclist team wants to continue a little further, we will finish at my uncle's 20 km away. Today I will have reached100 kilometers!
Alone on the saddle

The next few days I will cycle alone, and this until Toulouse. The track follows the via Rhona at the beginning and then the "canal du midi" (connecting Mediterranean sea and Atlantic Ocean). The first one is quite well indicated, with lanes reserved for cyclists most of the time.
Little elevation, pretty villages and beautiful views on castles. The Rhone Valley is also known for its nuclear power plants along the river, they are massive and are seen from afar.

Once Avignon is behind me, I look for a place to sleep. As the terrain is not appropriate I ask a couple if I can mount the tent in front of their house, they offer me instead to sleep in their garden hut and even propose me a hot shower, what a luxury!

The next day, I cross the Camargue, its swamps, and I saw on the way horses and flamingos. Rare cyclotourists are also using this path. After a good break in Aigues Mortes with the local boulists (pétanque players), I continue to Frontignan. The Mistral got stronger in the afternoon making happy kite surfers but sad the cyclists pedaling westward. I almost lost the tent while mounting it because of the he wind!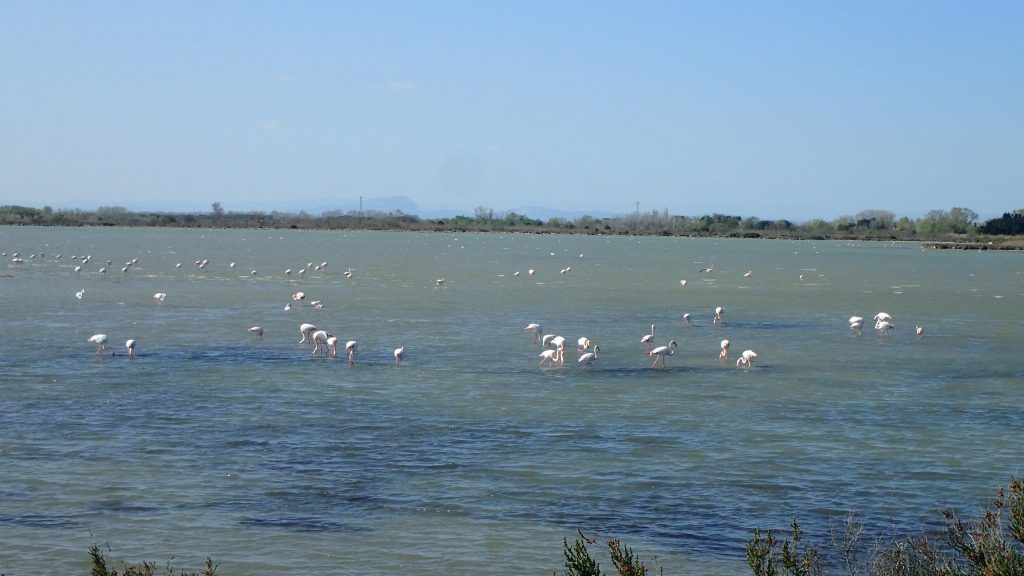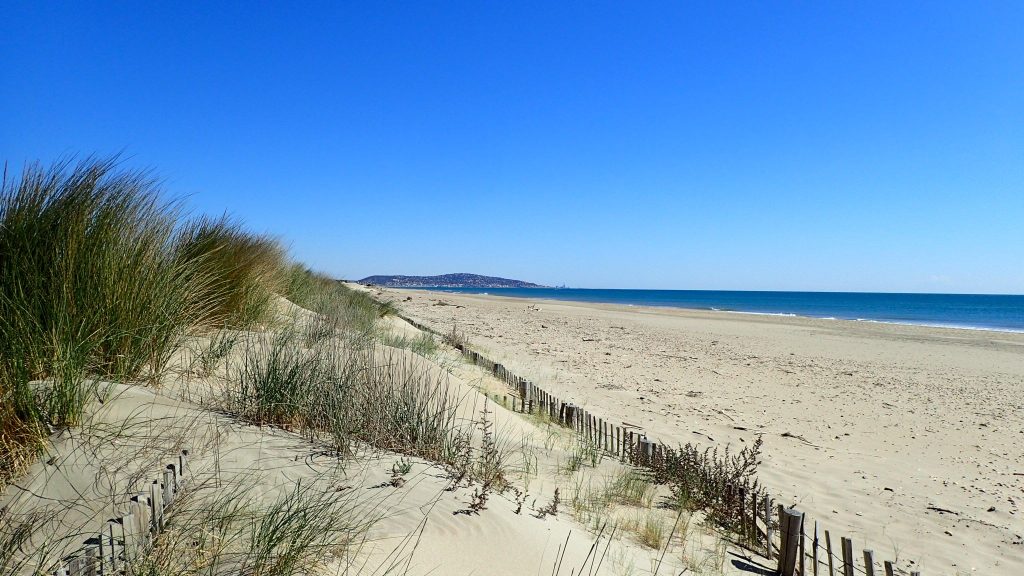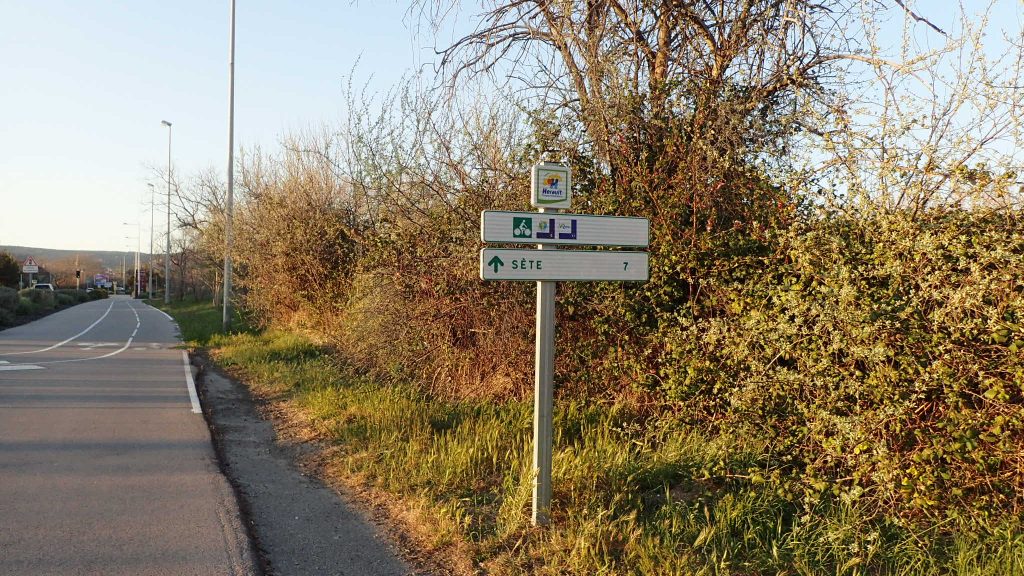 Cheating and so quickly punished
In Frontignan, I am celebrating this morning the first "camping" breakfast. The Mistral has not weakened, I think he wishes to accompany me to Toulouse. My day will be short because I planned to take the train from Béziers. My carbon-free journey already get 5 kg of CO2… But I need it to respect an "appointment" in the Pyrenees that can not be pushed back. A day and a half more would have been necessary to arrive on time.

Because of deviations on Sète that sends me to a main axis, I make a loop around Sète instead of moving towards Agde and lose an hour… the second time I find the right path that passes through the dike along deserted beaches until Marseillan. The end of the day becomes interesting from Agde to Béziers on the Canal du Midi, a rather wild but not very rolling part.
The Mistral still made this step of 70 km quite difficult!

I arrive at the train station 20 minutes before the departure of my train and I do not see any elevator or "bike rail". I'll have to be effective. A few clicks on the ticket machine allow me to buy my ticket, but the automaton informs me that I have to withdraw the ticket elsewhere because it does not have paper any more. Considering not having the time, I take the receipt and begin to move my bike. A Lady tells me that the ticket I have withdrawn is not valid – I tell her that I am in a hurry and that the receipt will do the trick. But a doubt invades me, already that the carrying of my bike is not allowed on the train, it is a little risky to ride "without ticket". So I will try to withdraw my ticket. The reservation is linked to the credit card used during the payment and I just need to type its secret code to print the ticket. It only takes me a few seconds and I'm more serene to take the train. However, I still have to go back and forth to the dock with all my luggages and my bike. Finally there, I see the train coming… but it's a TGV! I had checked the day before and I kept in mind that this timeslot corresponded to an Intercité or a TER (the carriage of bicycles is quite easy in TER or IC but much less easy in TGV). Fatigue and stress have devastated me a little on the blow because I have to go change my ticket, so either leave my bike docked or take it again back and forth…

I choose to leave the bike docked and go negotiate at the counter. Very friendly, the SNCF agent exchanges my ticket against the next TER, with a change in Narbonne. Back to my bike, and happy with my "negociation", I put my bag on it and will sit a little further. The Lady who apostrophised me about my ticket is also here. She's going to Narbonne. We'll talk a little bit until there.

In Narbonne station it is again a very bike friendly architecture masterpiece: it is necessary to change docks without any bike rail! On this train, I realise that withdrawals and purchases were made with my credit card… my wallet is gone! I had left my belongings in Béziers unattended less than a minute but it was enough to steal my cards. I suspect the Lady I was chatting with and her daughter hanging out to my bike in Béziers station… It will teach me to leave my wallet unattended. This mishap is nevertheless not so critical, I have lost only money and it happens to me at the beginning of the journey. Plus, this taught me a good lesson for the rest of the trip!

The day ends happily with the friends of Toulouse, whom I gave a recumbent bike course. The students are pretty good and manage after few trials to bike on their own! A good meal in good company will make me forget the worries of the day.
Last straight line
This Wednesday concludes the stage Alpes-Pyrénées. Tristan and Quentin, the Toulousains, accompany me to Boussens. One of the prettiest route so far with the Pyrenees in the background. I inherited a piece of baggage in Toulouse: my paragliding. Its weight (8 kg) makes me regret taking it in the climbs… I am eager to arrive where I started mountain activities.

One last beer with the Toulousains waiting for the train, and I'll finish alone. Goodbye Toulouse, see you soon, friends!
The road becomes more and more familiar from Mane. I even meet a cyclist slightly before Arbas. She was hummy when I exceeded her, and she jumped of surprised as soon as she saw me. Laughing, she admits that she sang to make pedaling more enjoyable and to think about something else. A small ray of sunshine before arriving at Thierry's (my former paragliding teacher)! First I meet Sébastien (a Friend coming from Grenoble) at the landing site and then Thierry will pick us up later. What a pleasure to come back here after almost six years. A haven of calm, which breathes the joy of life and kindness.